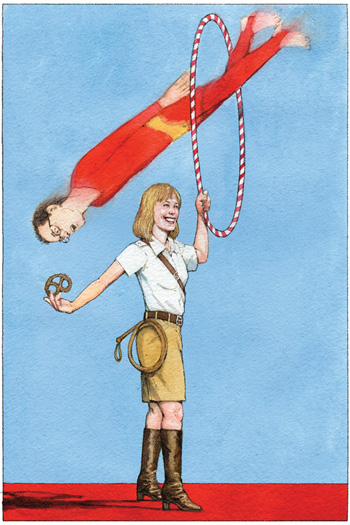 Recently there have been several new woman post comments on my blog. I thought it might be helpful both for me and them to put some obedient training techniques down that I have found work.
To start off, a husband will come into a D/s relationship with expectations on the way it will go. It is important that these be ignored and replaced with teaching him to follow your expectations. To get there, it is important for you to first identify what you would like to see as expectations to have him meet.
I find almost universally, housework is turned over. This takes training most of the time as guys traditionally are not given the basic skills. I have a little crash course down in the "resources" section down below. Other common things wife's want are having him pamper you with baths and massages. Sex on your terms so you can finally have fulfilling intimate times where you are treated the way you want is also common. The important thing is for you to determine "
what
" before the "
how
".
Okay, so now you have a few ideas about what "
you
" want to see. Your husband has agreed to the D/s thing, but is holding on to his expectations. A good starting point is to ask him to not start any conversation with you by saying "
how about if…"
or "
Do you want….".
This is really a way of him saying, "
I want to….
.". Let him know that he will be given direction about what you want. If he breaches the rule, remind him. This will keep his own ideas bottled up and eventually he will develop the habit of looking to you for directions. It will also help you to stear things how you like without his prodding you. Learning to be a dominant takes as much time for you as he will need to learn to be a submissive in the day to day routine.
Second, enjoy flaunting your freedom and pointing out his service role. This will become something he enjoys and in turn cause him to look to you for opportunities to serve you so he can enjoy it again. For instance, take some money, go get your nails done and let him know he is going to stay home to take care of the kids and clean the kitchen. When you get back, show him how pretty your nails look and comment on something he missed cleaning in the kitchen. Things like this establish the disparity pleasure mechanism and are a great way to instill future obedience.
Thirdly, tease him sexually with him knowing he will not be getting an orgasm for awhile. Tell him maybe the weekend, but during the week, ask him to help you undress, or give you a full body massage, or give his ass a good pinching during his morning routine. This concept is often mentioned, but I can say from experience there is no doubt it works wonders.
Lastly, have him read the rules you have made. This should really be done each day. This can either be by himself or out loud to you at night before going to bed. I can say there is something about reading rules out loud that help to establish following them. I now read my rules to my wife each night and for me it is one of the highlights of my day and a great way for me to end it.
Obedience is something that comes naturally to a submissive, but often because our society overwhelmingly imposes an equality standard, us submissives need your help in having our obedience to you to be true. If you will enjoy training, we will enjoy being taught to tune into your wants and you will find your submissive husband quickly enjoying following your directions the way you like to see him.